Authentic Private Customized Japan Tours - In Kofu Yamanashi only 90 minutes from Tokyo!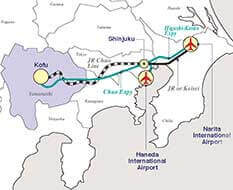 Discover Japan with an Authentic Customized Tour in Yamanashi!
Our convienant location in Kofu Yamanashi is only 90 minutes from Tokyo - and is easy accessed by train or bus!
Eco Tours Japan is now offering authentic eco tours based out of our rural location in the mountains overlooking Kofu Yamanashi.
Kofu is just 90 minutes from Tokyo and is easy accessed by train or bus. Kofu is the capital of Yamanashi Prefecture. The city lies in the Kofu Basin surrounded by mountains: The Minami Alps, Mount Fuji to the south, Mount Kimpu to the north and Mount Shirane and Mount Kai-koma to the west.
Kofu city is the largest town in Yamanashi and its economic heart. Visitors come to enjoy the mountains and sample the delicious local fruits and excellent Japanese wine, as well as take in the soothing onsen Japanese hot spring waters in such onsen areas as Yumura Spa, Isawa spa, Shimobe spa and other Japanese spa hot spring areas.
This culturally rich unique natural area provides the perfect getaway for those seeking to escape the city streets and discover Japans authentic nature and culture.
If your considering what to do in Japan for your holiday or vacation, then please join us for an authentic customized private tour in Yamanashi Japan.
Yamanashi located in the center of Japan, is a region richly endowed with nature, surrounded by beautiful mountains, amazing waterfalls, and deep forests.
The attraction of Yamanashi is not only nature and Mount Fuji. You can also experience the beautiful spirit that is unique to Japan such as: ancient historical sites, temples, shrines, traditional villages, onsen, and Japanese wineries.
Yamanashi is considered to be Japan's "kingdom of fruits" featuring world class grapes and peaches grown with high quality distinguished techniques. You can enjoy Japanese wine tasting throughout the year as well as picking grapes and peaches at farms and vineyards from summer to autumn.
The production of good-quality Japanese wine, sake, and whiskey is well established in Yamanashi and offers the fun chance for factory and wine tasting tours in Katsunuma.
Furthermore Yamanashi is an excellent onsen, Japanese spa, health resort and ryokan destination that has a variety of excellent quality natural Japanese hot springs. We recommend you soak your tired body in an onsen Japanese hot spring and relax at the end of the day after your tour.

About Our Tours:

All of our tours in Japan are customized on demand to accommodate your particular interest and ability.

Please check out a few of the unique tour activities you can enjoy in Yamanashi with Eco Tours Japan:
-Nature walking tours strolling the forests, villages and backroads of Yamanashi.
-Forest, river and mountain hiking or trekking throughout Yamanashi, Mt. Fuji World Heritage area and the Minami Alps.
-Katsunuma for Japan wine tasting! Discover Japanese wine making and wineries in Japan with a Katsunuma wine tasting tour.
-Cycling and mountain biking tours (bike rentals available).
-Camping in Yamanashi from mild to wild.
-Relaxing Onsen, Japanese hot spring, Japanese spa tours.
-Ojirogawa valley hiking along the river gorge with many beautiful waterfalls.
-Shosen valley and Shosenkyo gorge: (Mitake Shosenkyo), is one of Japan's most beautiful river gorges, and is the scenic jewel of Chichibu-Tama-Kai National Park. The picturesque Arakawa River runs through a steep gorge with towering, granite crags, rocks and flowing waterfalls.
-Japanese sake brewery and Suntory whisky distillery tours & tasting.
-Fuji mountain and Mt. Fuji world heritage area.
-Temples and shrine tours in Yamanashi.
-Culinary, food, arts & craft tours in Japan.
-Seasonal festivals, music experiences, Katsunuma Grape & Wine Festival, Kofu Jazz Street Festival.
-Sightseeing tours to various cultural and heritage sites in Japan.
-Yoga, soba making, cooking and farming tours
-Private, comfortable & relaxing accommodation. Please see below for more information on our unique and authentic private room accommodation.
-Delicious healthy and hearty food and superb convenienant location only 90 minutes from Tokyo.

Our Japan tours usually include:
-Private Customized Tour.
-Professional Guide Service.
-Spacious Private Room Accommodation.
-Onsen Japanese Hot Spring Entrance.
-Meals: Breakfast, Lunch, Dinner. Free water coffee, tea.
We offer a healthy hearty menu and our meals are prepared with special care using local produce naturally grown and sourced from gardens and local farmers markets. Special note: Gluten-free, and Vegetarian meals available upon request.

About our accommodation:
Our place located in the mountains of Yamanashi is a traditional Japanese mountain house with fantastic views of the surrounding forests and mountains.
It is a very quiet and peaceful area secluded in a small moountain top village, that offers unique and authentic traditional Japanese style accommodation in a Japanse style mountain house.
Featuring:
-Spacious private room (can sleep 4-6 people futon bedding)
-2 spacious open space living areas
-Open kitchen with free pure mountain water, coffee & tea
-Private shower & bath
-Free use of washing machine
-Free WiFi
-Outside garden area & picnic table.
Quiet forest roads and trails offer excellent walks and hikes from the house.
There are onsen hot springs nearby, also market, drug store and convienance store nearby.

Tours in Japan can be from 1-3 days or longer as you desire.
You can choose your own custom combination of Walking, Hiking, Cycling, Wine Tasting, Hot Spring, Sightseeing, etc., for your own unique private Japan tour.

Please contact us for a sample itinerary on all our custom tours in Japan

We highly recommend you contact us for further detailed information on the areas we visit as well as specific requirements and customization for each of our tours in Japan.

Come join us for an authentic experience in Yamanashi Japan with its vibrant culture and unique wildlife, all flowing to the ebb of seasonal changes!

To make a tour reservation please go to our RESERVATION PAGE.
Have Questions?
Contact us now!